Provincetown is located at the tip of Cape Cod peninsula, originally connected to the Massachusetts mainland. The Cape Cod Canal, which opened in 1914, transformed Cape Cod into a large island (though it is not normally referred to as such). Three bridges span the canal from the mainland to the Cape. Vehicles can cross onto the Cape via the Sagamore Bridge and the Bourne Bridge; the other is the Cape Cod Canal Railroad Bridge.
Provincetown's total area is 17.5 sq mi (45.2 km²), 9.7 sq mi (25.0 km²) of it being land and 7.8 sq mi (20.2 km²) of it water. To the east, The town is bordered by the town of Truro, Provincetown Harbor to the southeast, Cape Cod Bay to the south and west, and Massachusetts Bay to the north. The town is 45 miles (72 km) north (by road) from Barnstable, 62 miles (100 km) by road to the Sagamore Bridge, and 115 miles (185 km) from Boston via roadway.
For bigger image click here...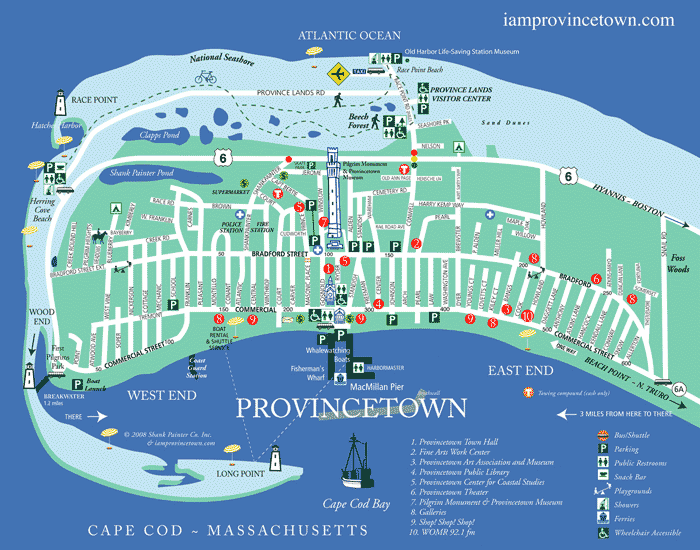 Provincetown Map © Ewa Nogiec. All rights reserved.
. . . . .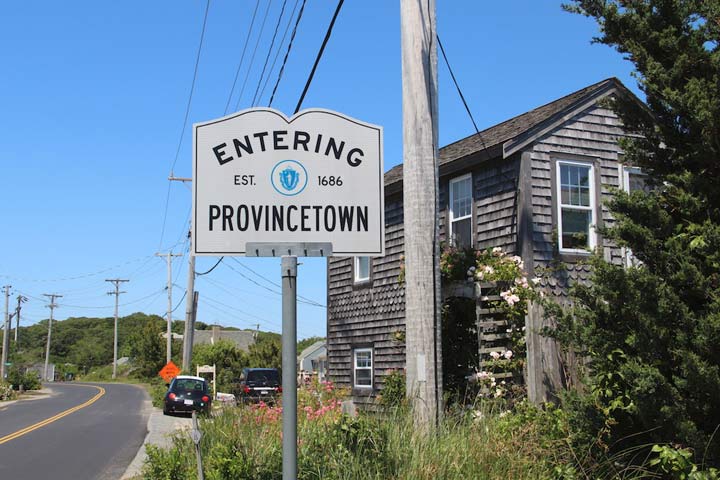 Entering Provincetown on Route 6A in North Truro
. . . . . . .
Explore Provincetown favorite places!
East End, West End, MacMillan Pier, Herring Cove Beach, Race Point Beach, dunes, Town Hall, Monument, candy store, A-House... and much more!